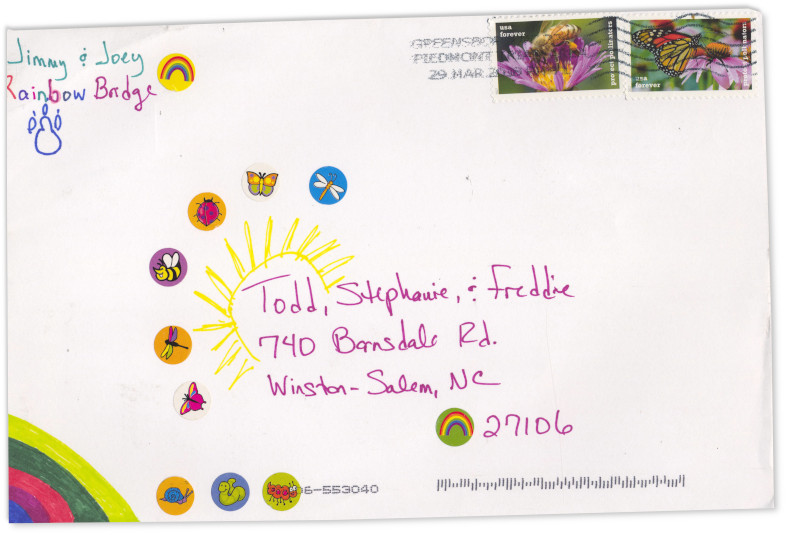 We may be the luckiest people because, every so often, we get a letter from our sweet boys Jimmy and Joey, both white terrier mixes we said goodbye to years ago (Jimmy in spring 2003; Joey in spring 2015). Like all parents, we wish they'd write more often, but they stay busy on the other side of the Rainbow Bridge and it's nice to hear from them whenever they have time to check in. - Todd and Stephanie Belcher






Dear Stephanie & Todd,

We have so much to report from this side of the Rainbow Bridge! Every day is go go go. Well, to be honest, there's a lot of napping, too, but between naps, we're busy, busy guys! Lately, we've been busy checking out new hot spots. That's one of the great things about this place, there's always something new to do. They keep it fresh and interesting for every resident-never a dull day.

Not long ago, they put in a new water park with several pools, slides and diving platforms. Joey and I like a shallow pool filled with plastic balls you can chase and we have fun running through a long series of sprinklers and sprays on warm days! As you'd expect, the water park is a huge hit with the poodles, labs and retrievers (of course!), though everyone is welcome, and the Portuguese water dogs offer daily dog paddling lessons to pups who've never swum before. Around the park perimeter, they've put in lounge chairs for dogs who'd rather sunbathe than play in the water. Most days, you'll find a group of French bulldogs showing off their newest swimsuits.

To keep the cats from complaining that dogs get all the best stuff, they opened a new avian hunting grounds, where cats can stalk all the songbirds they want-though just like all the live-chase games here, as soon as they catch a bird, it turns into a plushie toy. No matter! The cats say it's still fun. They're having a contest right now to see how many birds of each species each cat can capture. The winner gets bragging rights, which cats really enjoy!

The water park has a five woof rating on DoggyDoings.net. I'm sure the hunting grounds are highly rated too, but the cats won't give us the password for their websites. Cats! Not far from the water park and hunting grounds, they've added a new food court, where we can get just about anything we'd ever want to eat. Newly arrived animals are always excited to learn that they can abandon their special diets when they get here, eating as much as they want without ever gaining weight or having health problems. I've gotta say that some of the newbies go nuts, doing nothing except eating for the first few days they're here! (And to be totally honest, I might have been one of those.)

There are two Forbidden Edibles stands. One offers a buffet of socks, underpants, mittens and shoes-all "borrowed" from people who are still on the other side of the Rainbow Bridge. (So, don't worry next time you lose a sock in the dryer, it's gone to a good place.) There's a "Chew All You Want" sign on all the tables and chairs; some dogs stop by just to give a table edge a good gnaw. As you'd imagine, Forbidden Edibles is a big hit with dogs who remain puppies at heart forever.

Next door to it is Forbidden Edibles Too, which offers all the foods that used to be too dangerous for us to eat-chocolate, grapes, sugar-free gum, onions, etc. One day, Joey and I sampled it all and realized we weren't missing much all those years you kept us away from that stuff. Onions? Blech! Grapes? Ew! But some of our friends have already become chocoholics!

Joey and I prefer the Legs! Legs! Legs! stand where you can get turkey legs, chicken thighs, pig trotters, even table legs! And I've seen a lot of cats lined up for the mice kebabs and salmon slushies. We'll have to give those a try sometime.

It's not all eating and playing around here (well, it's mostly eating and playing-and sleeping)! Not too long ago, we helped Gracie, a beagle, and Lucy, a spotted black-and-white mix, get reunited with their long-lost brother Winston. Gracie and Lucy arrived one right after the other just before Christmas. They're a little bossy, yet cute! And the three of them are having a great time hanging out in a nice little house down the street from us.

Which brings us to something we've been meaning to tell you for a while now. We know how hard it is for our people to say goodbye to us and let us cross the Rainbow Bridge. Sometimes pets come here on their own, passing over quietly in their sleep; more often, we need our people to help us get here.

We've had a great life-you gave us that. You gave us comfy beds and let us cozy up to you on the sofa, even after you swore there'd never be pets on the furniture. You took us for car rides, long walks, hikes, boat excursions-everywhere we wanted to go. You rubbed our bellies and scratched behind our ears. You forgave us for having potty accidents in the house when we were young-and again when we got older. You gave us the medicines we needed (and were patient with us when we spit them out) and tried all sorts of other remedies and cures for whatever ailed us.

We could not have asked for anything more from you. And when we got to the point where we could no longer walk or were in pain, it was your final-and most generous-gift to let us go.

When we woke again, we were here-in this magical place, where we are young and healthy always, reunited with all our animal friends and given everything we could possibly want or need until that day when we will be reunited with you, too.

Your decision to let us go, painful as it was, was the most loving thing you'd ever done for us. We are forever grateful for the life we had with you and for the ever-lasting life we have now.